Service & Parts FAQs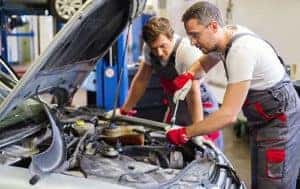 If you've been considering using our Toyota service center for your auto maintenance and repair needs, you may have a few questions on your mind. To help our Silsbee, Beaumont, Lumberton, and Southeast Texas drivers, we've compiled a list of answers to some of our most frequently asked questions to make your experience with us as smooth as possible. 
Don't see an answer to your question below? Be sure to give us a call, and one of our friendly customer service representatives will be more than happy to answer any questions you have.
Does Silsbee Toyota Only Service Toyota Vehicles?
Nope. Our service center is equipped to handle all makes and models. We'll take a look at just about any kind of car or truck, but we specialize in all things Toyota. We are able to order parts for other makes, but if you drive a Toyota, we'll have those genuine parts in stock along with the expertise of our highly-skilled technicians.
Do I Need An Appointment For Repairs or Maintenance?
No. While appointments help us provide a more tailored experience, we welcome walk-in customers, so feel free to stop in during our regular service hours. Wait times may vary based on the time of day, so we recommend scheduling a service appointment so that we can accommodate your schedule.
Do You Do Repairs Without Contacting Me?
To ensure that we have clear communication with our customers, we'll always notify you before any repairs are done to your vehicle.
Why Choose Genuine Toyota Parts?
Genuine Toyota Parts are designed to fit perfectly with your specific model and will keep that area of your car and other associated parts running in their best condition. While we know you might be able to get lower costs with after-market parts, anything but the genuine parts we have in stock here in Silsbee could end up reducing your car's value in the long run.
How Often Should I Change My Oil?
It used to be normal to change the oil every 3,000 miles. But now, modern automotive technology has stretched that figure further. Engine oil changes should always be completed as directed by the manufacturer of your specific make and model. Follow the recommendations in the owner's manual. You can typically expect to change your oil anywhere between 5,000-7,500 miles.
What Happens If I Don't Change My Oil?
Oil is the lubricant that keeps your vehicle operating. If you decide to not change your oil, then it will break down and leave sludge in your vehicle's engine. Eventually wearing it down and causing it to no longer work. It is crucial to follow a maintenance schedule that fits both your vehicle needs and your driving style.
How Often Should I Have My Brakes Checked?
A good rule of thumb is to get your brakes checked whenever you rotate your tires – around every six months. We recommend measuring at each regular service interval. Not replacing your brake pads will severely reduce your stopping power, your brakes will wear on your brake discs, and this can lead to more costly repairs down the line.
What Should I Do When My Check Engine Light Comes On?
The light can indicate any number of things, most of which will require a mechanic to diagnose. It could be something basic, like a loose gas cap, or something more serious. The best way to make sure that you are safe to drive your vehicle is with a multi-point inspection. By bringing it into our shop, we can find the issue and make you aware of it so you can choose the best course of action moving forward.
When Does My Toyota Need Service and Maintenance?
We recommend that Toyota owners schedule a service appointment every six months or 5000 miles, whichever comes first. Be sure to check the Toyota Maintenance Schedule in your owner's manual to keep up with routine service.
Do You Sell Tires?
Yes. We have tires available for you to purchase online. Our technicians can ensure you get the right tires for your specific make and model.
How Often Can I Expect To Replace My Tires?
On average, tires last about 5 years or between 30,000-75,000 miles. The exact life span can be attributed to the manufacturer, as well as other factors such as the surface you drive on, the environment in which you live, the materials of the tires, driving style, maintenance, etc. No matter how they look, tires should not be used for longer than 10 years.
Things to keep an eye on for when you should get new tires: you should look for low pressure, any abnormalities, the ratio of tread remaining, performance with losing traction, or constantly having to fill them up with air are common signs of worn-out tires.
Contact Our Service Center in Silsbee With Any Other Questions
The team at Silsbee Toyota is always ready to help our customers out. If you have any other questions, don't hesitate to contact our Toyota dealership. Set up your next service appointment by phone or online, or swing by to get started.